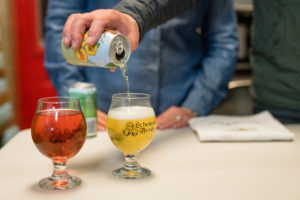 Come back to this page regularly to see where Ethereal Meads are pouring!  The list is growing and our production continues to increase!
Northwood Public House and Brewery, 1401 SE Rasmussen Blvd, Battle Ground, WA 98604
Large, family-friendly brewpub serving housemade beers (and mead from Ethereal Meads!) with generous, delicious burgers & other upscale bar eats.
What's Pouring: Something's always on at our exclusive tap, such as Happy Bear, Foxy, Happy Troll, Happy Gnome, SquatchBerry and other unique special kegs.  northwoodpublichouse.com/
Skål Beer Hall , 5429 Ballard Ave NW, Seattle, WA 98107  www.skalballard.com
Vikings, mead and meat come to Ballard!
Heathen Brewing Feral Public House, 1109 Washington St, Vancouver, WA 98660
The Black Squid Beer House, 3001 SW Hwy 101, Lincoln City, OR 97367
A great place to chill out and enjoy the Oregon Coast's best selection of beer, wine, cider, mead and kombucha.
Hockinson Market, 15814 NE 182nd Ave, Brush Prairie, WA 98606
This tap room is located in the back of a quaint convenience store in Small-town USA. They have excellent tap selections that perfectly match the charm and hospitality of this little watering hole.
Ben's Bottle Shop, 8052 E Mill Plain Blvd, Vancouver, WA 98664
Ben's is a bottle shop with hundreds of bottled craft beverage selections, 24 taps and some transcendent food! Enjoy mead in house or take one to go! If our meads aren't on tap at the moment, check the gigantic cooler and grab a bottle or can to enjoy!
Old Ivy Brewery and Taproom, 108 W Evergreen Blvd, Vancouver, WA 98660
Pleasant taproom ambience, intriguing tap list (including excellent mead!), great pub food, and a dog-friendly outside seating area!
The Hop N Grape (Longview), 924 15th Ave, Longview, WA 98632
Mead on tap and great barbecue! A great place to watch a game, socialize with friends and grab some of your favorite bbq and of course mead from Ethereal Meads!
Chuck's Hop Shop (Seattle), 656 NW 85th Street, Seattle, WA 98117 chucks85th.com/
A great place with an extensive taplist. Watch a game, or order a keg to go and take it home!